Dental Bridges Near You
If you have missing teeth, then you are likely on the hunt for a good replacement. Missing teeth can not only cause you to feel self-conscious, but they can also cause your oral health to deteriorate. At Queen Street Dental, we provide dental bridges in Spruce Grove as a way for our patients to fill the gaps left behind by missing teeth.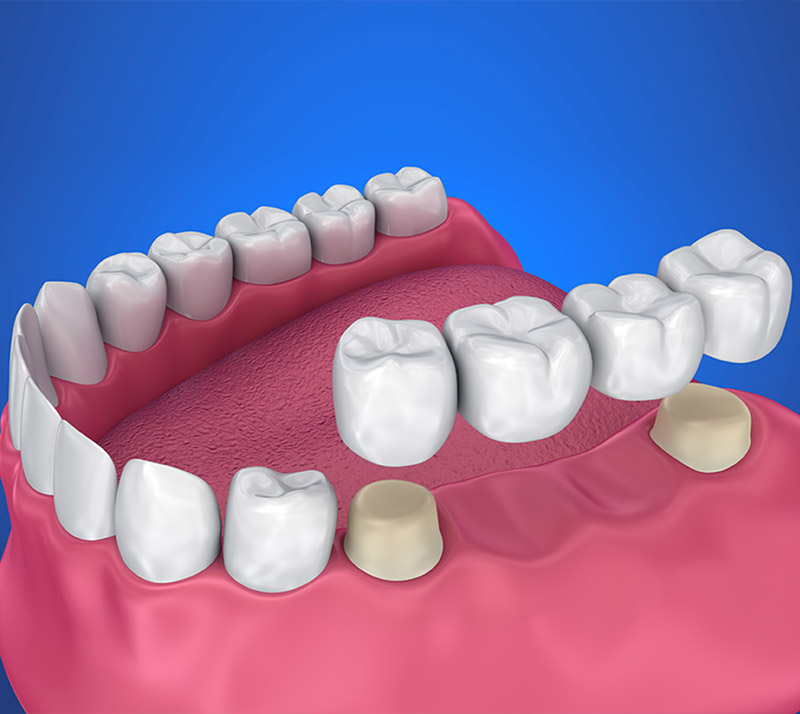 What Are Dental Bridges?
A dental bridge is a form of dental restoration that is composed of multiple dental crowns stuck to each other. The middle tooth, called the pontic, replaces your actual missing tooth. The crowns on either side of the replacement tooth use the teeth adjacent to the space as anchors.
There are multiple types of dental bridges available, and each kind uses different methods and materials. When you visit our dentist in Spruce Grove, they will evaluate your condition and help you determine which type of bridge is best for your needs, considering factors such as the location of your missing teeth, your personal wishes, and your budget.
What Are the Benefits of Dental Bridges?
There are many benefits to choosing a dental bridge, such as:
Preventing teeth from shifting
Enhancing your facial appearance
Restoring your chewing and speaking abilities
Boosting your confidence
Caring for Your Dental Bridge
In most cases, recovering from a dental bridge procedure is quick and easy. Most individuals can return to their daily routines without many challenges within a few days of their procedure. You may notice some soreness, but this will subside on its own in a couple of days.
If you take good care of your dental bridge, it can last you for many years. Ensure that you:
Rinse and floss under your bridge using a Waterpik flosser
Maintaining good oral hygiene practices
Avoid hard and sticky foods
Visit Queen Street Dental at least once every six months for a professional dental cleaning and exam
Interested in Dental Bridges Near You?
If you are missing teeth and thinking about getting a dental bridge, please do not hesitate to contact our team at Queen Street Dental. We are happy to provide dental bridges in Spruce Grove.