Dental Cleanings and Exams Near You
When it comes to maintaining excellent oral health, dental cleanings and exams are vital. These visits are essential for eliminating tartar and plaque from your teeth and preventing oral health issues from occurring. At Queen Street Dental, we provide high-quality, comprehensive dental cleanings and exams in Spruce Grove.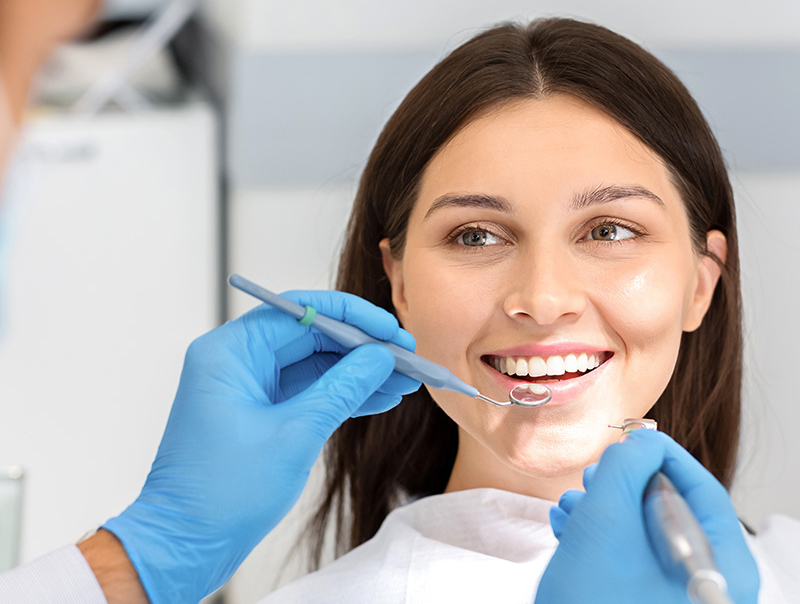 Why Are Dental Cleanings and Exams Important?
When we eat and drink, bacteria coat our teeth and turn into a sticky substance known as plaque. While daily brushing and flossing can remove most of the plaque from your teeth and gums, it is impossible to reach all the areas of your mouth with a toothbrush.
When left alone, plaque hardens into a substance called tartar, which cannot be removed without the help of a dental professional. As tartar remains on the teeth and gums, it can lead to tooth decay, gum disease, and more, so it is important to get it removed as soon as possible.
Additionally, when you visit our dentist near you for a dental cleaning and exam, you will give them the opportunity to detect early signs of oral health diseases and treat them before they progress.
What To Expect During Your Dental Cleaning and Exam
When you visit our team at Queen Street Dental Center for a dental cleaning and exam in Spruce Grove, our dental hygienist will greet you to begin the cleaning portion of your appointment, which will include:
Scaling your teeth and gums to remove tartar and plaque
Polishing and flossing your teeth
Providing a fluoride rinse to strengthen tooth enamel and prevent future tooth decay
Once your dental cleaning is finished, our dentist will perform a comprehensive oral examination, which will involve:
Visually inspecting your teeth and oral tissues for signs of gum disease and decay
Performing an oral cancer screening
Taking x-rays of your mouth to identify any underlying conditions
Discussing your medical history
Once they have finished their exam, our dentist in Spruce Grove will speak to you about their findings and work with you to create a personalized treatment plan to address all your oral health needs.
Maintaining Oral Health at Home
It is important to look after your oral health every day through good oral hygiene practices. Here are some of the things you should do to keep your mouth healthy:
Floss once a day
Brush twice daily
Rinse your mouth after meals
If it has been more than six months since you last saw a dentist, now is a good time to visit our team at Queen Street Dental. We are happy to provide comprehensive dental cleanings and exams in Spruce Grove. Please contact us to book your appointment today.